Believe it or not, a window is not just a window. Window size, pane thickness, frame finishing, and speciality glazing, oh my. The options that must be weighed when selecting a window can be as abundant as they are confusing. But not to worry. We're here to help. Our decades of combined experience have given us more than a few bits of knowledge, knowledge that we're happy to share with you.
Getting to Know Window Types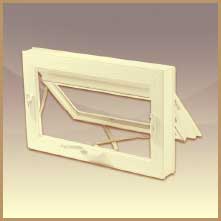 Awning Replacement Window
This popular choice for contemporary and Craftsman homes is hinged at the top, allowing it to tilt outward and retain ventilation even during inclement weather. These make excellent accent windows above or below picture windows.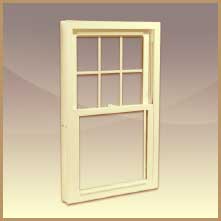 Dbl. Hung Vinyl Replacement Window
This traditional style allows for the opening of either the top or bottom sash. The top sash can be opened while maintaining safety around children or pets. Plus, sashes tilt inward for easy cleaning, even on hard-to-reach upper floors.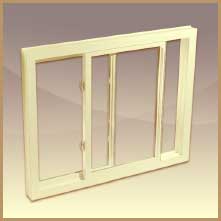 Horizontal Sliding Vinyl Replacement Window
Popular for bedrooms requiring egress windows, this is an easy-opening window for use above kitchen counters and sinks. These provide a contemporary look, and open without requiring any exterior or interior space.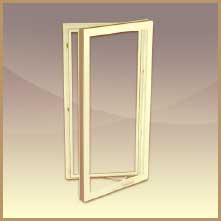 Vinyl Casement Replacement Window
Similar to a picture window, but with the option of being opened, this type of window provides excellent ventilation and views at the same time. It has no rail to obstruct views, and featured an indoor screen to prevent collection of dirt and grime.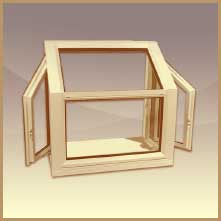 Replacement Garden Windows
These transformational windows can instantly transform any room of your house into a spectacular living area. These incredibly durable custom windows feature a pane at the top to let in light, and two angled side panes to provide ventilation.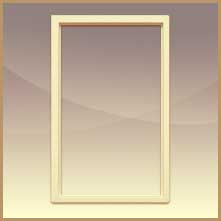 Picture Replacement Window
It's all about the views with these simple windows designed to let in light and beauty. Perfect for living rooms, dining rooms, and master bedrooms, picture windows can be combined with one or more operating windows for ventilation.
Getting To Know the Materials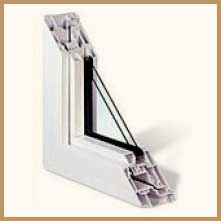 Vinyl windows and doors
Regular vinyl windows are hollow inside, but they are still strong. Although they are dent resistant and sturdy, they can become distorted in areas of extreme cold or excessive heat. All things considered, vinyl windows are still a good choice since they are very affordable, and they provide good insulation for many years to come. Your color choice is also important decision since vinyl window is not easily paintable.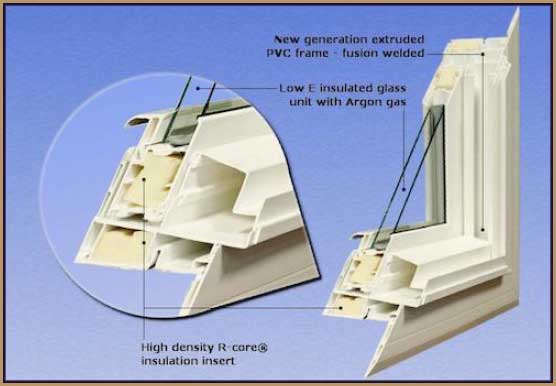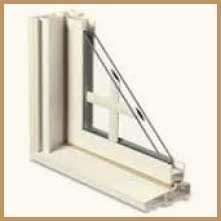 Fiberglass windows and doors
Fiberglas replacement widows are one of the newest varieties on the market. Their overall quality and durability exceeds clad wood, vinyl, aluminum, and solid wood replacement windows. They are also the superior choice when considering very large windows, since they are capable of supporting larger panes of glass. Additionally, fiberglass can be painted, and it won't warp, crack, peel, or split. It's clearly one of the best options, if you're willing to pay upwards of double the cost of ordinary vinyl windows.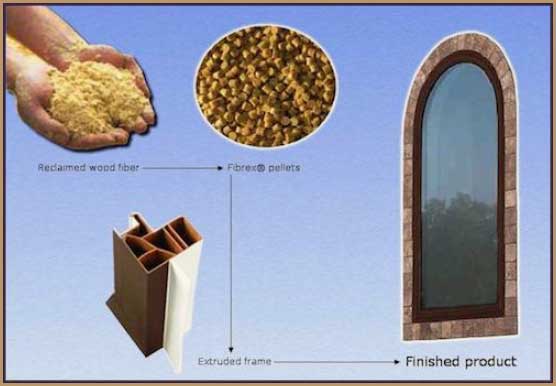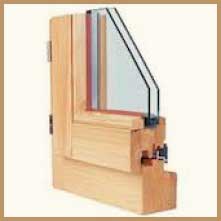 Wood windows and doors
Wood replacement windows offer classic beauty and style, and they provide natural insulation. Although they look great when new, wood windows require protection from the elements, and they are one of the most expensive options. Wood replacement windows are popular, but if inadequately protected they will eventually rot, split, or warp, and they are subject to sticking during bouts of humidity. Regularly painted and maintained, they can last for generations.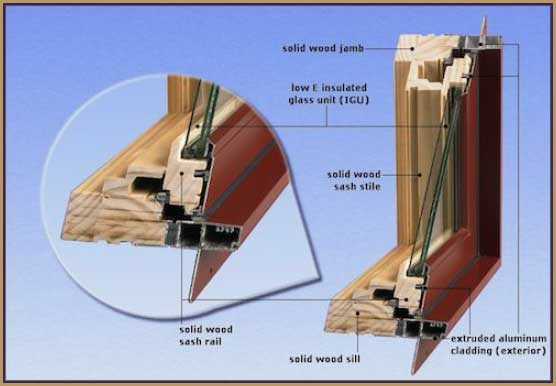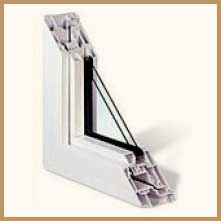 Aluminum windows and doors
Aluminum replacement windows aren't subject to splitting, warping, or shrinking, and they are exceptionally durable. They're relatively lightweight for those who might have trouble raising heavier windows, and they'll provide many years of problem-free use. On the downside, aluminum windows improperly insulated are subject to condensation. They're a great choice if you don't live in coastal areas where salt in the air will quickly deteriorate the finish.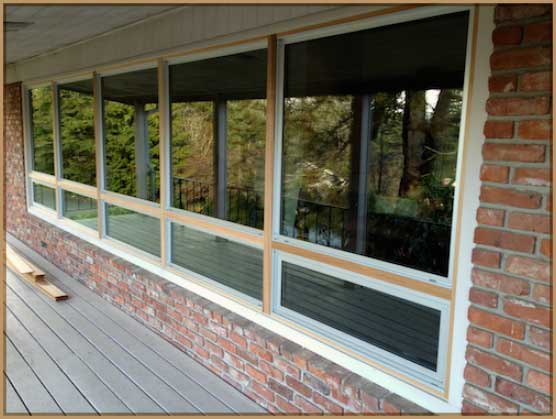 Getting to Know the Glass
Glass Options
While not all glass is created equally, there's no need to be intimated by the litany of different terms used by the various glass manufactures to describe their features. The quality of a pane of glass comes down to a few key features:
Thickness of Glass Panes
The industry standard thickness of window panes for residential applications is 1/8". If the window unit passes a specified size (determined by the manufacturer) the thickness will be increased to 3/16″. Typically, 3/16″ glass is considered an upgrade worth considering if you live near a busy road or active area.
Overall Thickness of Glass Unit
The IGU (insulated glass unit) is typically made of two glass panes separated by spacers. The thickness of the glass and width of the spacer will determine the overall thickness of the IGU. This typically ranges from 1/2″ to 1″. The more dead space between the panes, the better the insulating properties of the IGU unit.
Insulated Glass Unit Gas Fill
There are three options for IGU gas fill. The first is simple: 100% dry air. Second, Argon gas is an affordable upgrade that is 1.4 times more dense, and therefore more insulating and lasting. And third, Krypton gas is typically used only with triple pane windows due to its chemical properties.
Glass coatings
IGU with clear glass has a drawback: it allows most of the visible light and solar heat to penetrate. Glass coatings are a great way to combat solar heat.
– Tint
One such option is tint, similar to the tinting film used in the automotive industry. It is effective at reflecting sun rays, but can also reduce light (just as sunglasses do).
– Low-e Coating
A better solution is Low-e coating. This is a micro-thin coating of metal oxide that is fine-tuned by the manufacturers to reflect solar heat, while maintaining maximum light penetration.
Getting To Know The Installation Process
The perfect window with the finest glass and the best coating is worthless if improperly installed. Believe it or not, we've seen more than a few homes with windows installed upside down (not by us!). Let's be clear: the installation process is just as important as the selection process.
Consider this "Windows Installation 101," a quick course to help you understand your options before you hire an installer. The three most common installation methods are as follows: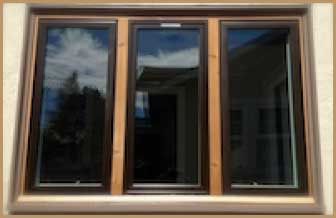 Block Frame
The fastest and most economical window installation method is the Block Frame. This is the process by which an old window is removed and a new window is installed, secured only by the window frame. A caulking bead is the only defense from air and water, requiring maintenance and touch up to ensure a proper seal. While this method is generally not recommended, it is often the only option for brick or concrete homes.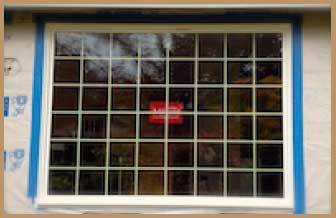 Nail Fin
Our recommended installation method for new windows and patio doors, this process attaches the window to its surrounding wall using nailing fin which is secured in place with a bead of caulking (for water protection) and screws. After being properly leveled and adjusted, a flashing tape can also be applied to form a water management system around the window. New exterior trim surrounding the window is then installed to finish the installation.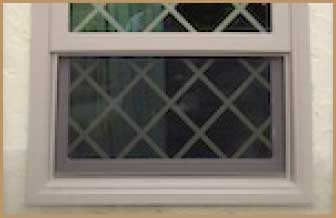 Stucco Fin
The stucco fin or "Z-bar" system is specially created by manufacturers for stucco homes. This process prevents damage to the home's surface, and requires virtually no touch up or clean up. If you have a stucco home, this process can be both a time and money saver.